It is sad day for photography. Pentax and Ricoh cameras and lenses will no longer be made industrially. Aficionados of either brand will still be able to acquire their favorite gear as assembled in very low volume by craftsmen, thus making it easy for them to personalize their gear. This is as close to closing down as it comes. A sad day, I tell you.
So what caused the downfall of two respected brands?
Ricoh was never a mainline manufacturer of large-sensor cameras. After the collapse of their sales of small-sensor so-called compact cameras, along with everybody else's, they were left with one fixed-lens APS/C device, the GR, in its successive iterations. It was, as such, a very well respected device. Even a class leader for those who wanted the best possible IQ out of a diminutively sized device, especially for street and landscape photography.
Pentax, however, is almost the opposite. While it is a storied name, and was a major player in film days, with many achievements to its credit, in particular under the Asahi Pentax name, including the Spotmatic cameras, the 67 medium format film body, very well-loved lenses like the Super Takumar and the Limited series, by now its gear lineup of APS/C, FF and MF DSLRs is no longer up to snuff compared to the offerings of Canikony. It was not always like that. I once drooled over the Pentax 645D, an affordable CCD MF camera that could, under the right circs, deliver whopping IQ, well beyond its cost. And its successor, the CMOS-sensored 645Z, again a competitive predecessor to Fuji MF cameras, a mouth-watering image-maker.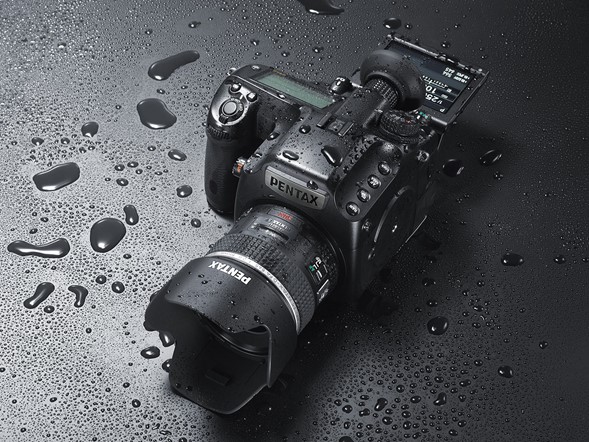 So, what went wrong? Basically volume. When you own 3% of the domestic Japanese DSLR market, and the worlwide market leader, Canon, finds the situation so bad that it calls it quits for DSLRs, you can imagine how dire things were for Pentax. This very small market share meant less money for investment, and less ability to keep up with rivals. In particular, Pentax cameras in the digital age were not renowned for the performance of their AF, a most desirable feature today. Similarly, they did not turn early to video or mirrorless, where they might have found less troubled waters. And, astonishingly, Pentax were the only Japanese manufacturer to have a line-up in APS/C and FF and MF. Which only spread their limited resources thinner, and streched them even more.
And while, in many ways, their releasing affordable digital MF DSLRs was prescient and class-leading, they did not have the money or the market presence to make a commercial success of these highly desirable cameras.
Ultimately, it was inevitable that some manufacturers would fold. How might that not happen when the overall market is down 90% from its peak. So it is with a feeling of sadness, but not of injustice that we bid adieu to Pentax and Ricoh.
​Like what you are reading? Subscribe below and receive all posts in your inbox as they are published. Join the conversation with thousands of other creative photographers.