The 2nd May 2019 marked the 500th anniversary of the death of one of the most multi talented people who has ever lived. He died at Château du Clos Lucé, Amboise, in France, and was often referred to as a Universal Genius.
Yes, that's a very bold statement, but consider this, he dabbled in, drawing, painting, sculpting, architecture, science, music, mathematics, engineering, literature, anatomy, geology, astronomy, botany, writing, history, and cartography.
Of course I'm talking about Leonardo Da Vinci.
Discussing Anne & my recent visit to Château du Clos Lucé with Philippe we both agreed we would love to have been able to swap brains with him.
Just imagine the photos you could create with his intellect, talent and artistic perception and perspective.
Of course, that age old question came up with Philippe, what camera would the great LdV use if he were alive today.
Hang on before you get excited and say XYZ camera.
Firstly we need to exam the different Genre of photography and ask ourselves which he would have favoured LdV.
Portraits – Mona Lisa, The Last Supper, The Virgin and Child with St. Anne, maybe he could be the new celebrity photographer to the rich and famous, but would he be so frivolous.
Macro – I'm sure this would've been of substantial interest given his interest in engineering and inventions for one.
Landscape
Street
Architecture
Would he want to be the next Ansel Adams, Robert Capa, Vivian Maier, Edward Weston, HCB, Richard Avedon, Annie Leibovitz, or just an enthusiast photographer. IMHO LdV would excel in all genres he decided to pursue.
Before we get to the topic of which camera, in our modern age of school media would LvD be a YouTuber, Facebooker or Instragramer and chase likes and emojis.
From what I could glean from some quick research very little is known about his actual life. Freud concludes by saying "that we actually know very little about Leonardo's life, especially his youth, so his analysis of the man's life and mind is based mostly on speculation".
I will hypothesis and say that LdV would be oblivious to social media and that creative experimentation and the results is what would drive him, not notoriety on the web. Of course some of you may disagree.
Nikon, Canon, Sony, Fuji, Pentax, Hasselblad, Phase One to name a few or a Leica.
Of course Nikon immediately sprang to mind from me, being a user of the brand since 2012. Whilst a D850 with excellent glass Zeiss Otus (28/55/85/100) what else, would fit the bill for landscape, portraits, architecture. Add a Zeiss Milvus 100/2 for macro, what Nikon AF lens for street. Some of you may say well a Z7 with the new Z35/1.8S. Yes that would be excellent kit that most of us would be very happy to have.
As for Canon the 5DsR is getting a little long in the tooth but is still a good camera. I'd match it with the same lens as above. For street mmm, I'm unsure what Canon would be best fit for use, I'm guessing some of you will have a thought and suggestion.
Sony has been kicking goals and continues to do so for some years so a A7R111 with the appropriate G Master Glass would be the order of the day, a one stop shop.
Fuji like Sony have been doing many things right in the camera world firstly they listen to their customers, from what I can glean from the media. The GFX 100 and the appropriate lens would fit the bill for all genres except macro and they don't have a specific Marco lens that I know of. For street an XT-3 would fit the bill nicely with say a XX lens.
Ah, now the big names, well old ones that have been around for a long time and are spoken of with reverence but most photographers and are on the wish list only if…..
First up, Hasselblad maybe I should let Pascal comment here, on second thoughts here are my thoughts. H6D or X1D? Both have the glass to meet the requirements of LdV. The H6D would meet the requirement for all but street. But would the X1D make it as a street camera. After watching Pascal shoot during a photowalk (inset link to article) I have my doubts that you could capture people in the street, but cityscapes would be no problem.
Phase One again like the Hassie would be let down for street.
Leica ah you say yes a big tick for street as the great HCB used one. So for street an M10 with Summilux-M 50mm f/1.4 ASPH. As for landscape etc, well the SL and appropriate lens should fit the bill.
The burning question is what Camera System would LdV use is……
To be totally honest I have no idea as the choice and ranch of systems he would have to choose from is very large and wide, price of course doesn't come into to it.
All the above mentioned have their pro's and con's, weight, size, DR.
IMHO whatever system he decided upon would do the job. The other question to ask yourself would one system perform at the highest levels for each genre. I don't think so…….. over to you.
---
Pascal adds
Dallas kindly asked me to make a few suggestions of my own and, to me, there can only be one answer: a large format view camera. Let me explain.
Leonardo da Vinci is credited as being one the most brilliant inventors in human history. Some now suggest that he may have been a great curator of inventions, but that wouldn't lessen his talent in my eyes, on the contrary. I think it takes even more genius to recognise brilliance in the work of others and develop them in your own, than to huff and puff as a hermit, which is what he was reported to do. Wikipedia writes :
He made substantial discoveries in anatomy, civil engineering, geology, optics, and hydrodynamics, but he did not publish his findings and they had no direct influence on subsequent science.

Wikipedia entry (greatly saddened italics, my own)
Whatever the case, the man seemed interested in everything. A man fascinated by a holistic view of the world, to speak the modern tongue.
Needless to say I can only imagine the irony of his satire on what the photographic industry has evolved into. One strange land filled with denizens who at the same time worship only speed and turn their gaze and social drumming nearly exclusively to such fast-moving subjects as the Eiffel Tower, the Matterhorn and Icelandic glaciers.
In fact, I rather fancy the idea of Lisa del Giocondo quietly wetting herself with laughter at the thought, while he described it to her, during their sessions together.
No, Leo wouldn't have been one to let a piece of baked sand tell him where to focus and how to set aperture. The very idea would have driven him to refine some dire variant of his steam cannon.
A man of his intellectual stature and insatiable curiosity would have revelled in the subtleties of the Scheimpflug principle. He would have considered the chemistry of collodion and paladium a sublime form of photographic haute cuisine. He would have elevated the hands-on experience of print making to the same heights as tempera and oil.
There's a reason many of the most eagerly collected artistic photographers today use, or have used, large format view cameras. And the grand daddy of them all would have too. Only, he'd have made them even better.
---
Philippe adds
Ahhh…to write about Master Leonardo…. no easy task, the man was such a giant among men. But, for sure, he wouldn't have wanted to be "just a photographer". He would leave that to lesser men, like (his opinion)… Michelangelo. Remember, one of the reasons we have so few works from him is that he wasn't interested in "just" painting, or sculpting. He wanted each piece to break new ground in some way. So it would have been the same with his photography.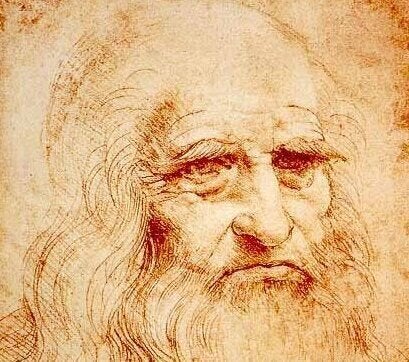 The power of his inventive mind would have pushed the boundaries, if only on paper. In what direction? I see at least 3 of them, based on his work and interests.
I see his deep study-based understanding of human anatomy. And, at the time, that was no mere fancy. The Church frowned on anything like opening up cadavers, so Leonardo did it at great risk. I posit that he would have invented the camera that would let hm fully uncover all the mysteries of the human body. How? By not only capturing the outside of his subject, but actually by looking inside. Yes. inside matter. Not only inside tubes, the way of an endoscope, no inside matter itself. Leonardo, the genius!
The second camera would serve Leonardo the architect. For that, he would have designed a camera that would so fully capture perspective and depth as to be fully 3D in virtual reality. You will counter that VR is video and not still-photo. That, my friends, is not the sort of limitation that would hold Leonardo back
The third camera is of course the most interesting. It captures objects in time. A time-travel camera. Actually, I could tell you how it works, having deciphered Leonardo's secret, coded papers, and it is INCREDIBLE. Unfortuntely I haven't heard from the Patent Office just yet, so you'll have to wait. But I make you a promise. You will be the first to know. Yes, here on DS. No-one gets it sooner than you. Just, for your own sake, don't hold your breath…
---
​Like what you are reading? Subscribe below and receive all posts in your inbox as they are published. Join the conversation with thousands of other creative photographers.